Its been a minute since I've shared an updated look at my apartment! And looking back at that original post, YIKES. It was looking rough. But Rome wasn't built in a day, so neither was my 390 sq ft. apartment. It may have taken me several long months of staring at my empty Ikea Ribba frames in my corner, but I finally filled my frames and hung them all up! Just in time to move out. LOL, just kidding. Maybe. Maybe not though. Renting is stressful folks. 0/10 do not recommend.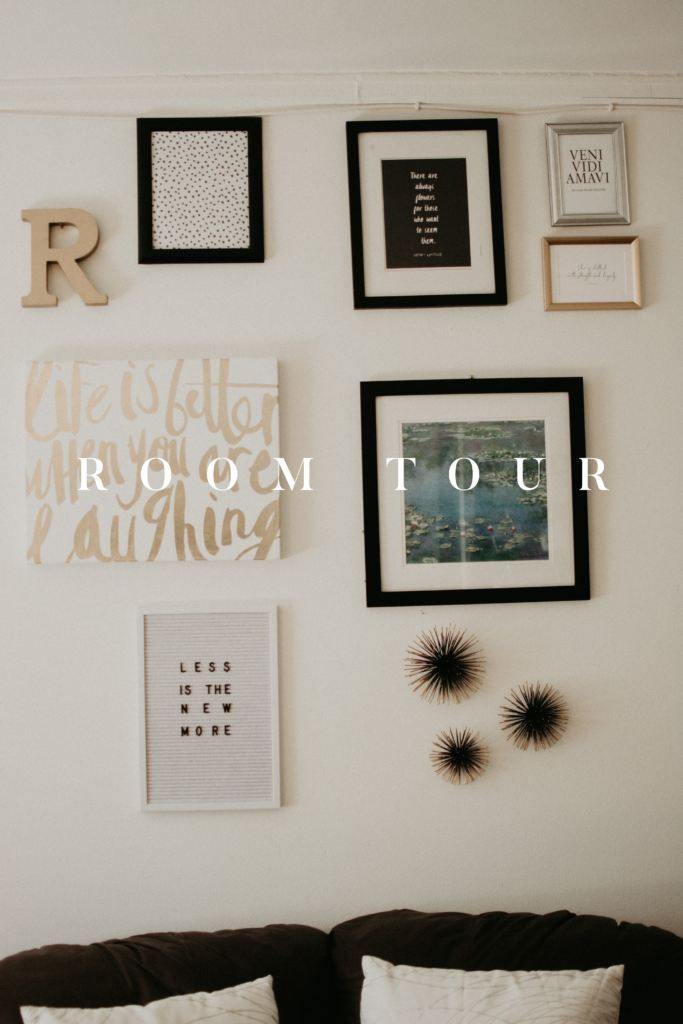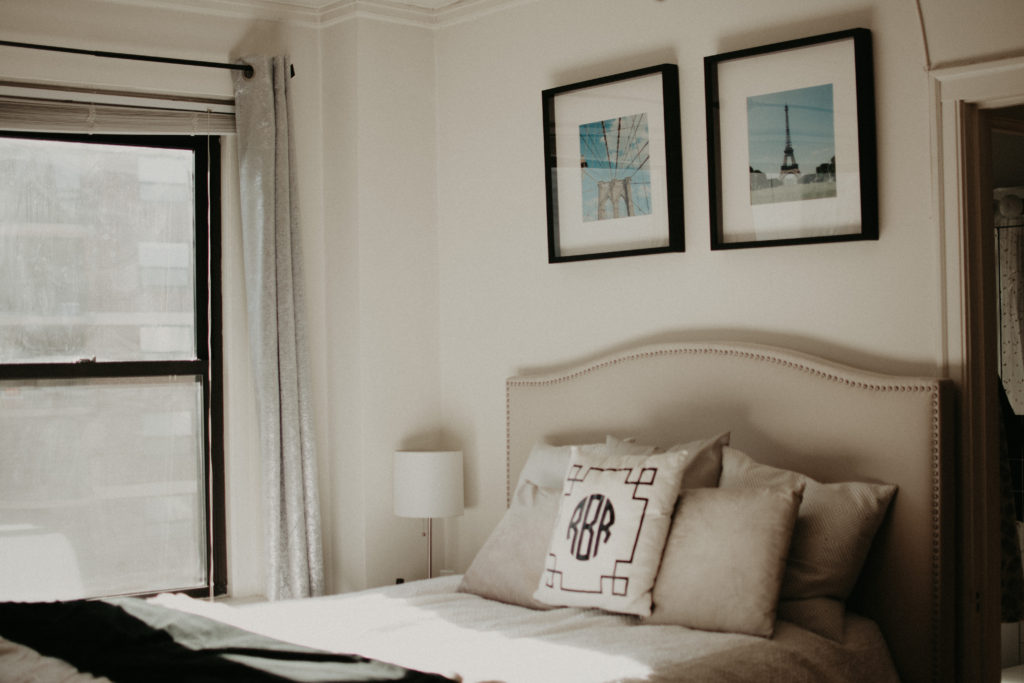 This was my best achievement, the frames above my bed. I'm a huge fan of The EveryGirl (I mean, who isn't?!) and one of the founders, Alaina has this lovely blog and even lovelier home here in Chicago! I used her bedroom as inspiration to maturing my apartment this winter. What I didn't realize was going to be so stressful was figuring out what prints to use! I'm ballin on a budget here so the pieces I was looking into and the ones that I liked were all way out of my price range, go figure. So I decided to go a different route and use my own photos from traveling and I could not be happier with the final product. With my novice Photoshop skills I was able to turn the left picture into the right and it looks so good. I could just stare at this picture all day long. It was the most gorgeous day in Paris and we were celebrating my 21st birthday that day and we popped champagne and sat in the park for hours and it was so warm out and I want to remember that day forever. So printing it out was an easy choice.
What wasn't an easy task was figuring out what size to print. Goodness gracious was that an ordeal. Ikea, originating out of Sweden follows the metric system, as most countries do, don't get me started on why America has to follow our own measuring system that makes no sense whatsoever, but I digress. If I wanted to print out the exact dimensions of the hole in the picture it would have cost me a fortune and only limited companies print custom sizes. So I jimmy rigged the system a bit. I ordered a 12×18 matte poster from CVS (40% off at the time too, score!) and added 2 white borders on the sides so that the image itself was the right size, 30cmx30cm, but the print was 12×18 so that no distortion happened in printing. It was flawless. I could have cut off the white borders if I wanted but I used the sides to tape the picture in place inside the frame.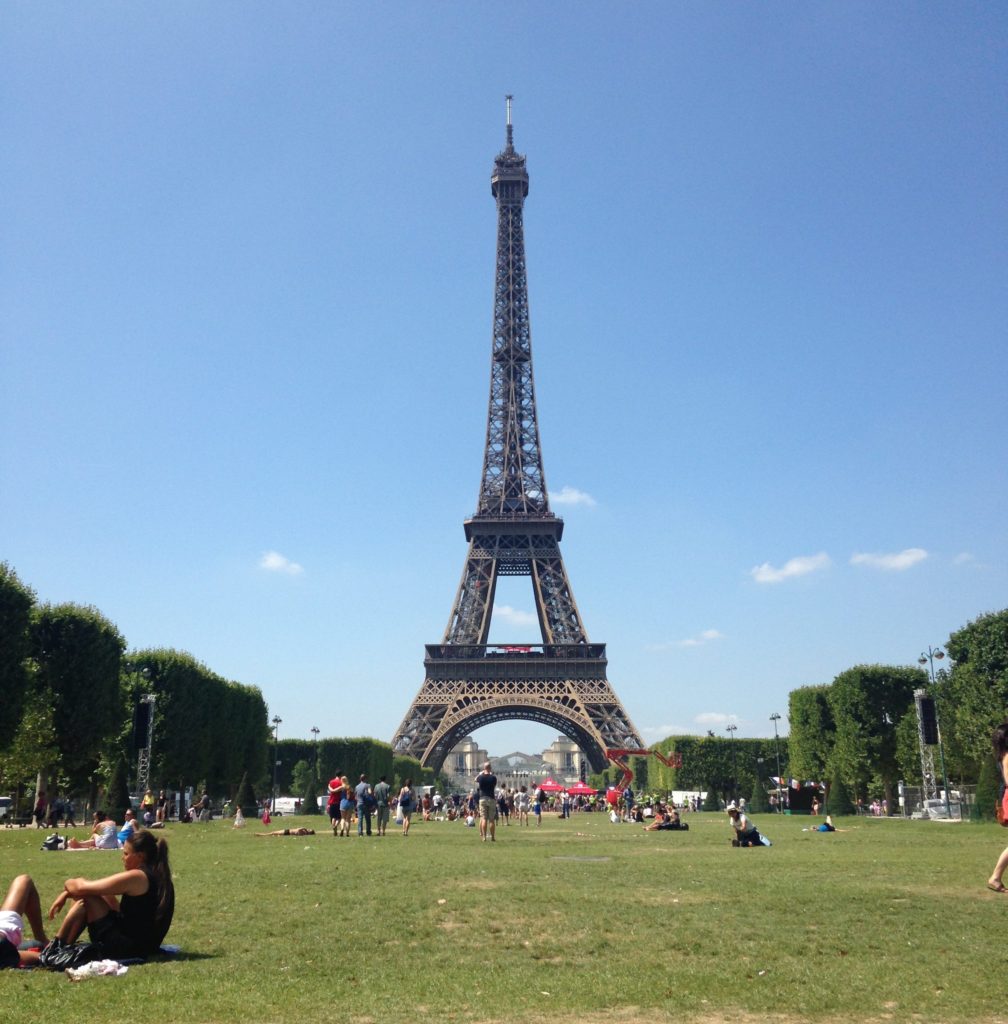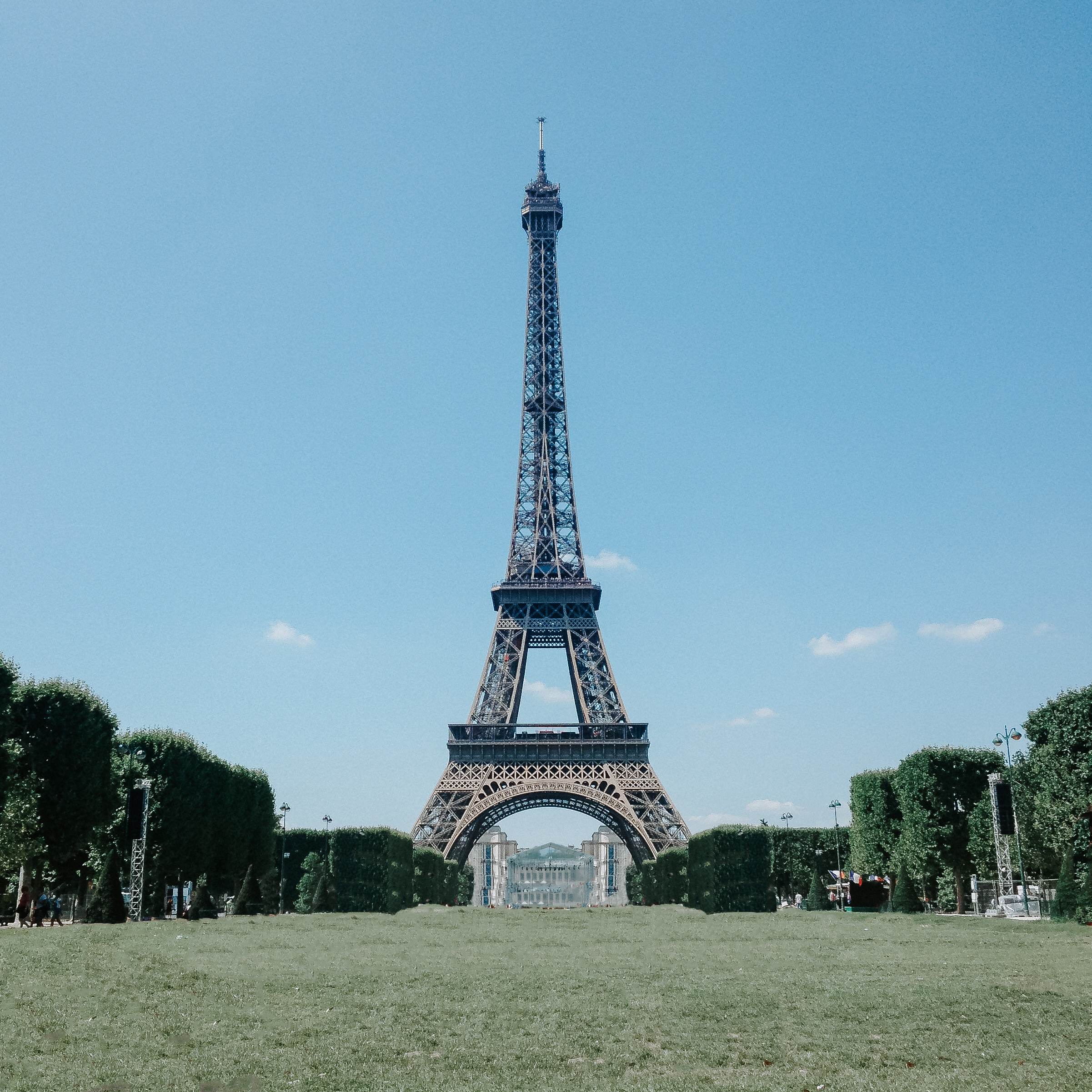 I don't have as elaborate a story for my picture about the Brooklyn Bridge, I've just always loved that picture I took when I was in NYC coming back from London. It was already beautiful to begin with so no work was needed on that.
The headboard is my pride and joy. I found one originally at TJMaxx, but when we brought it in my room, it was too low and didn't actually fit my bed frame. So back to the store it went. Then I purchased this one on Amazon and it was perfect. Its completely adjustable in the height, can fit to a full or queen and looks so rich, but was only $90. So happy about it. I'm still struggling with the nightstand area. Those things are so expensive! The ones I like are more than the headboard! Its unreal. I think I'm going to go with this one in the end, but just haven't had a chance to get out to Ikea recently.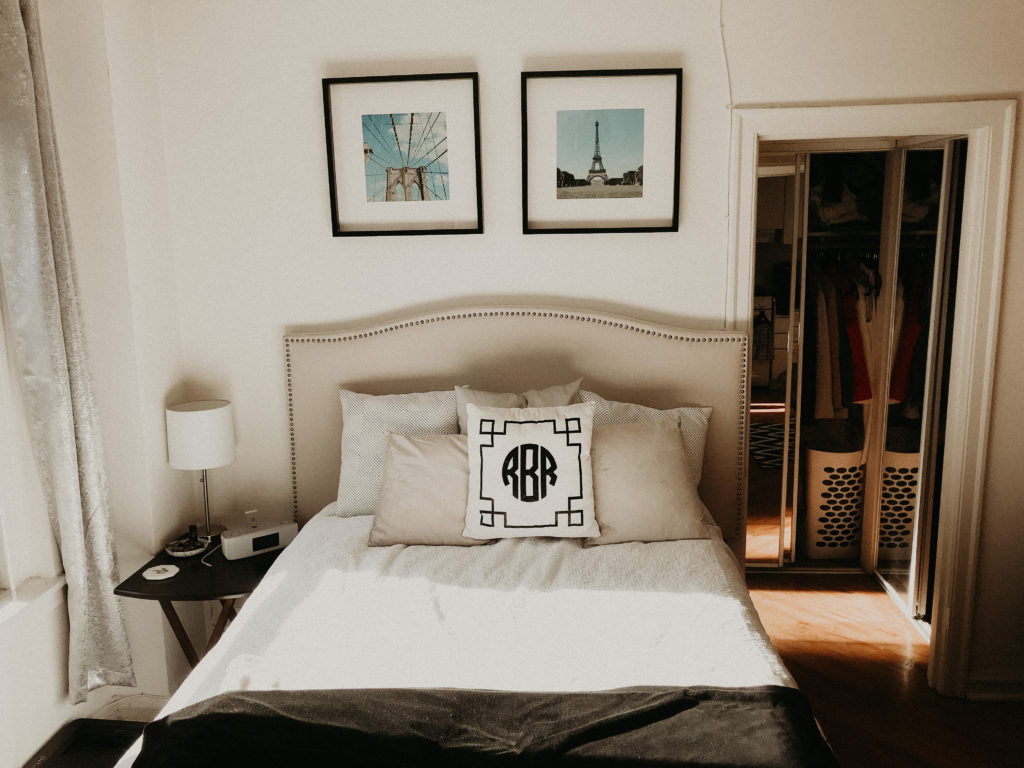 headboard | frames | duvet | taupe velvet pillows | black + white patterened pillows |monogram pillow | clock radio
This brings us to the "living area" of my studio, aka my couch. This has been a trouble spot too, but I'm somewhat pleased with the outcome. I've collected multiple frames over the years from Goodwill, other pictures, or just around my house to use in a gallery wall. All of the prints minus the canvas and the Monet painting(lol if you ever even thought it was real) I printed off myself or were cards someone gave me. Most of the time I design the print outs because I can't find anything I like on Pinterest.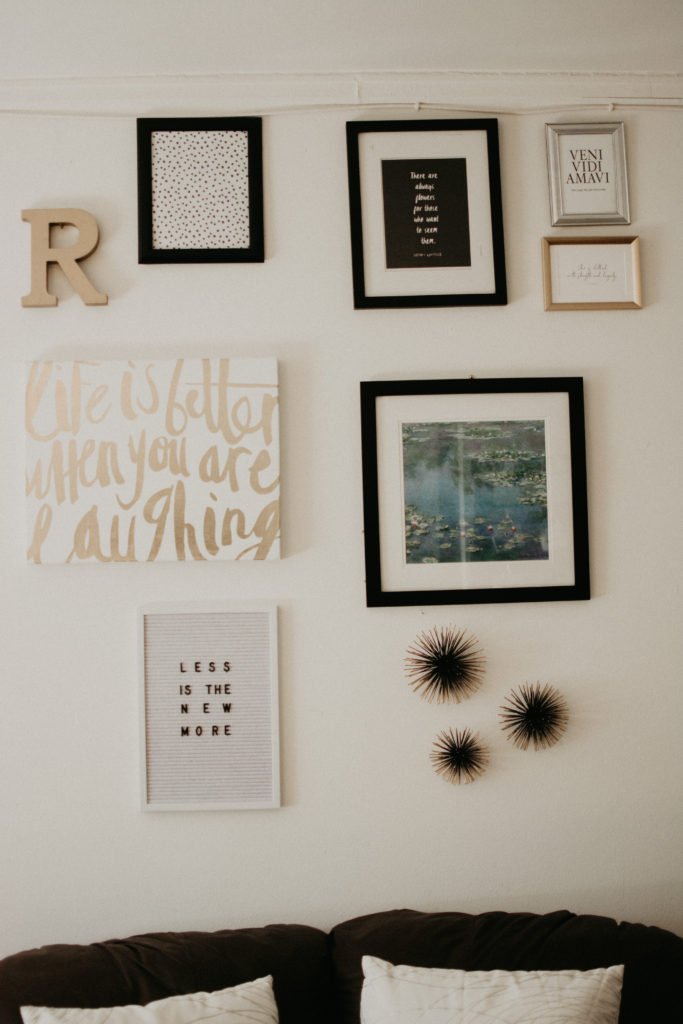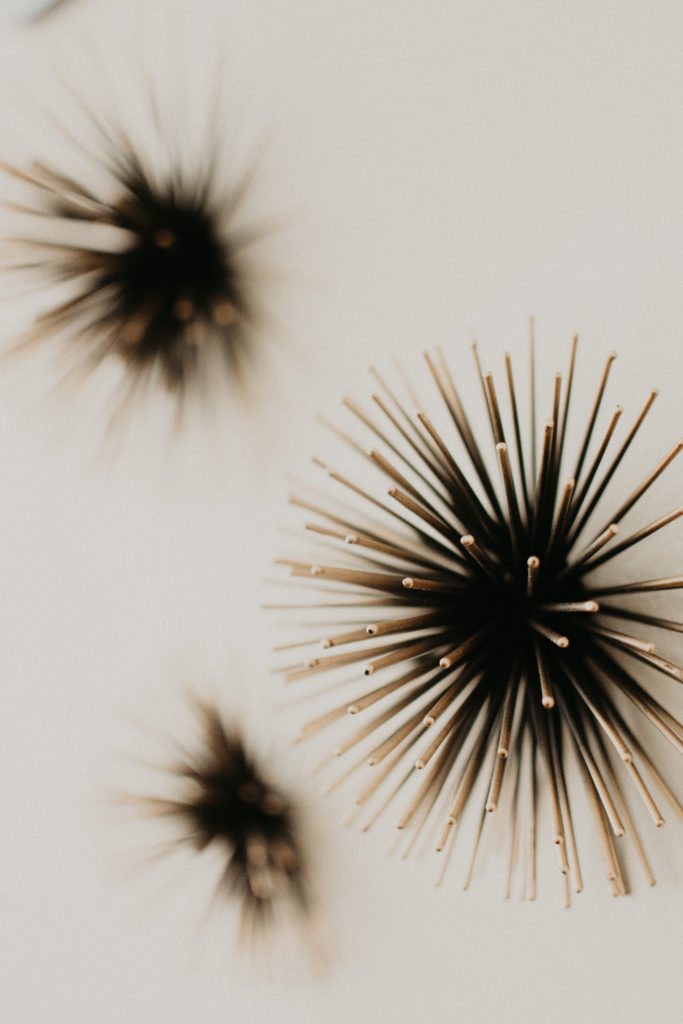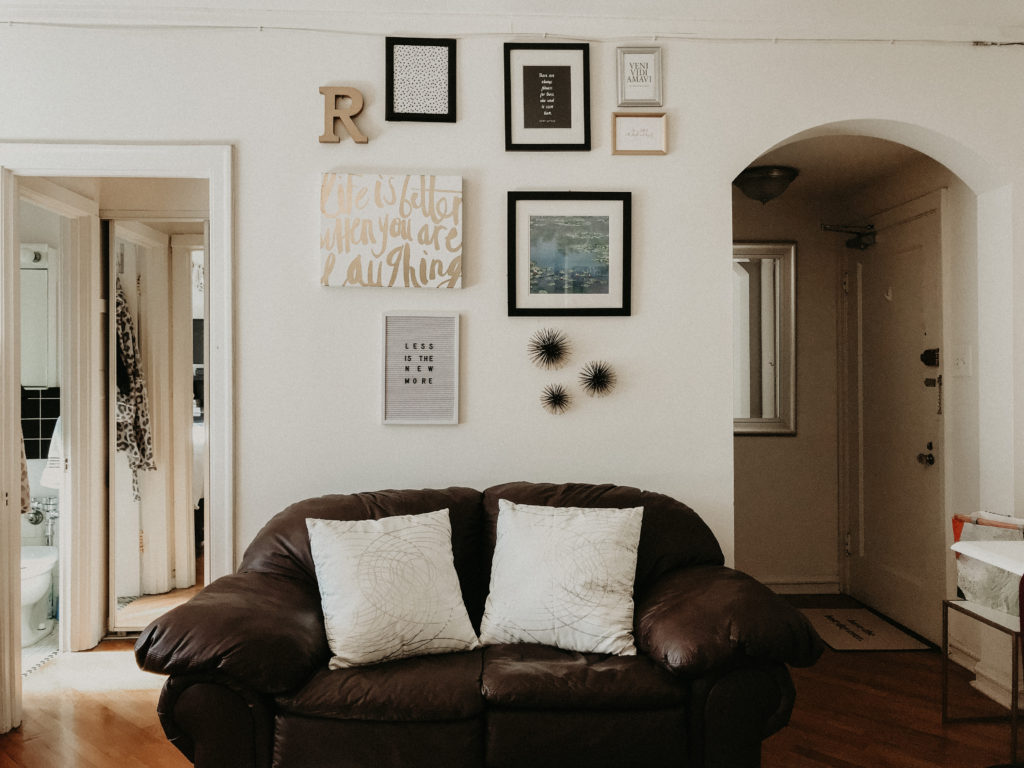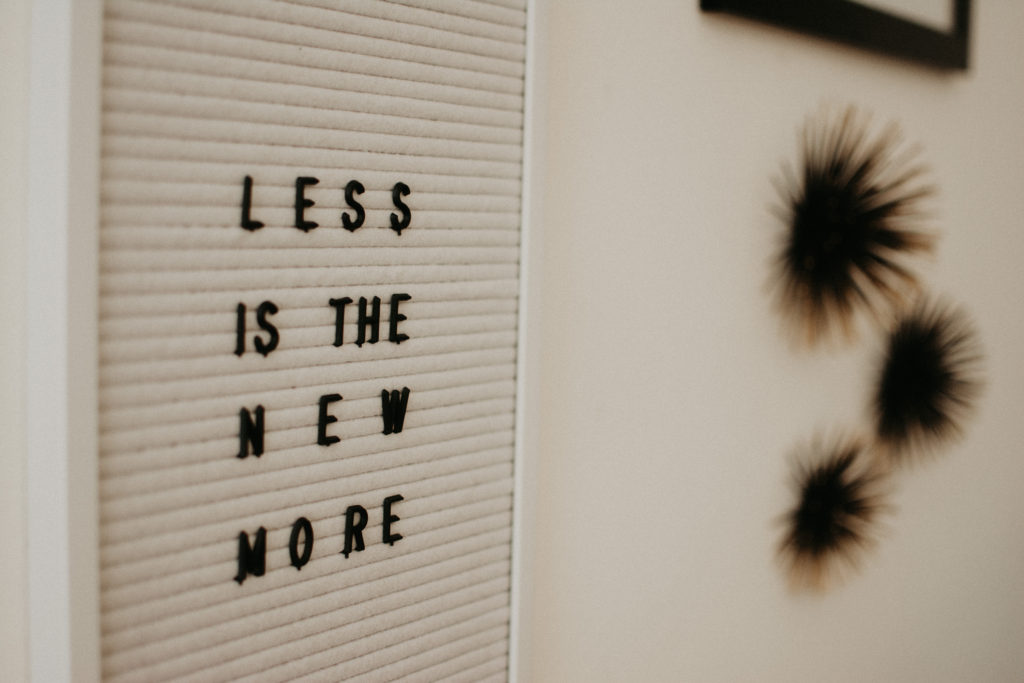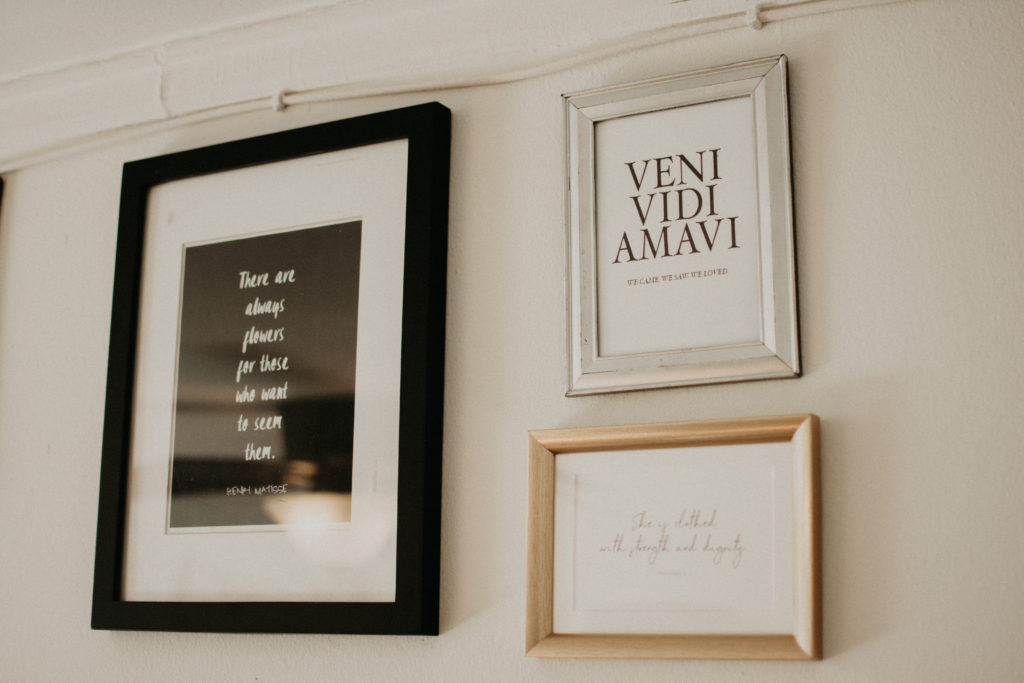 And that brings us to the final area, my desk. A bit messy and bare, but it works for me. The artwork on the cork board is almost all from magazines that I get or postcards or prints that I drew. I didn't do too much differently here, just cleaned up the collage for a calmer and more minimalistic feel. Probably one of my favorite areas. I just love that center quote.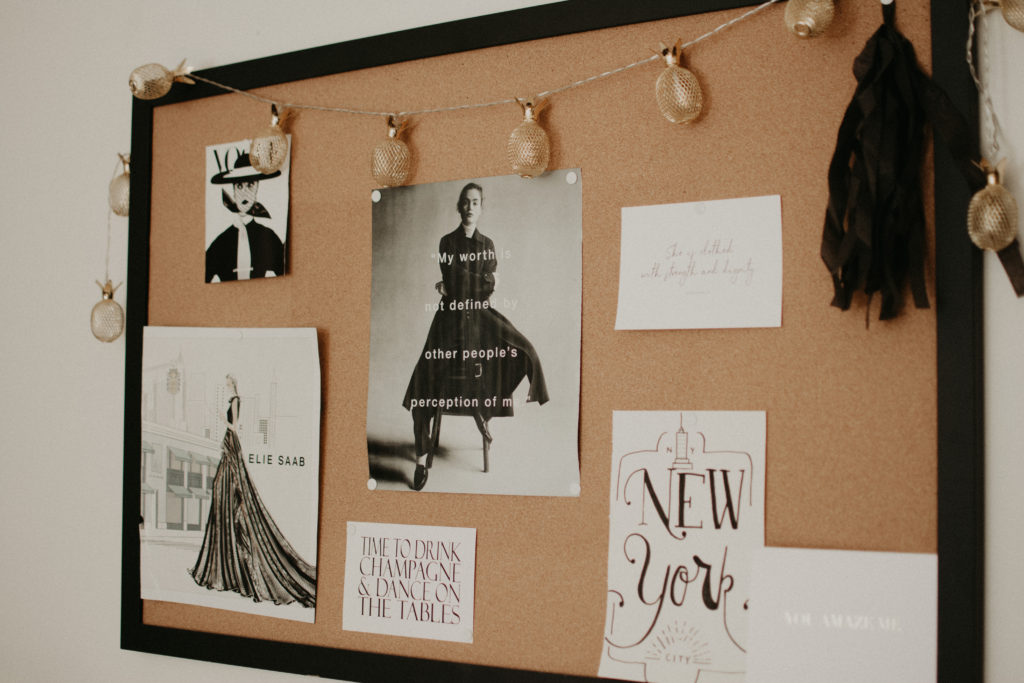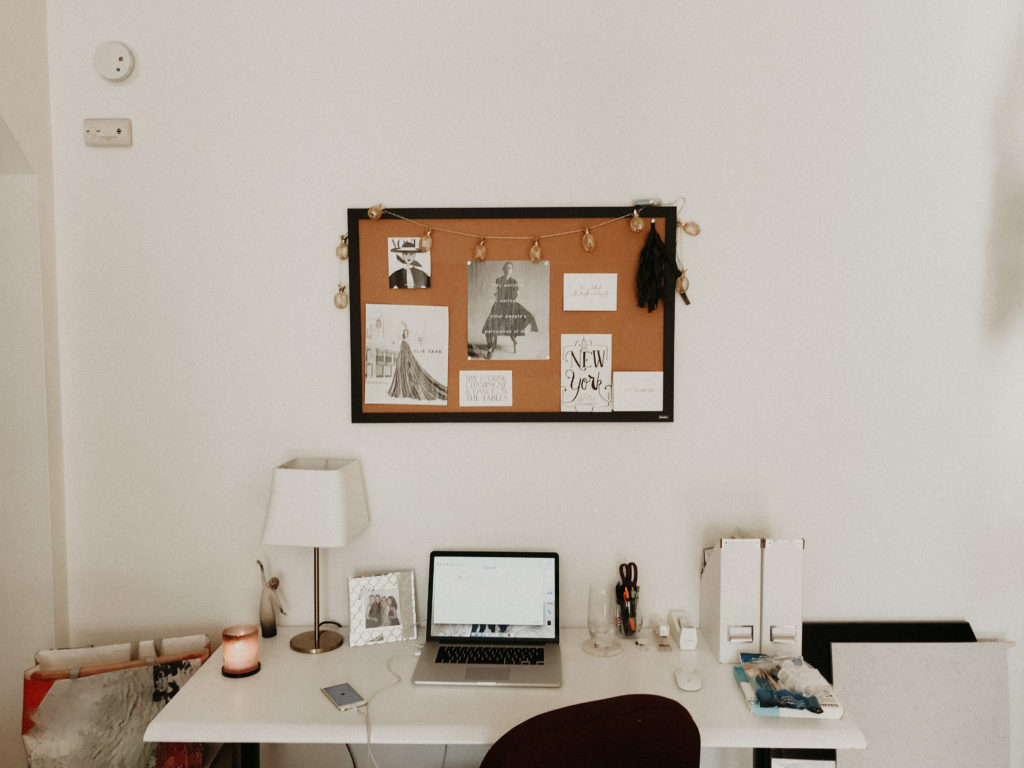 Well, that about wraps it up! We'll find out soon enough if I'll be moving or if I'm gonna stay put.