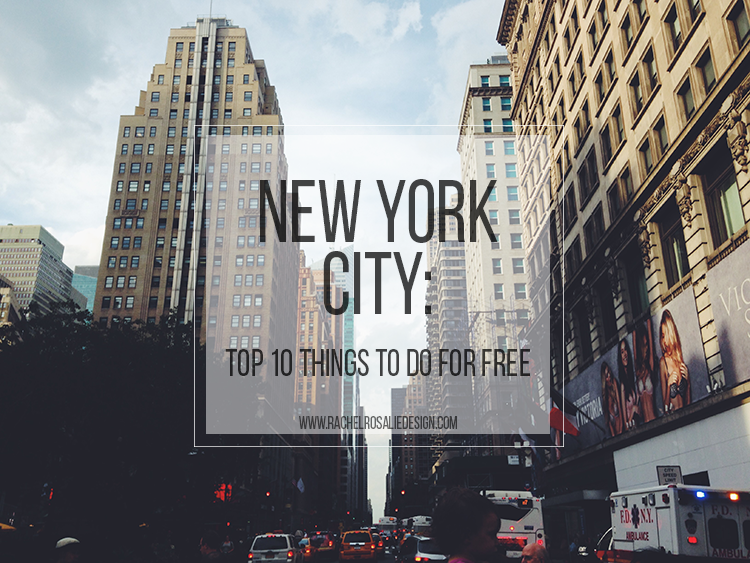 Traveling is my favorite thing to do. Bar none, hands down. I will travel for the rest of my life guaranteed. And as I'm sure you've all been following along with the hashtag #RROnTheRoad and #BlondesAbroad2015 on Instagram and Twitter, you are aware that I have been traveling A LOT this summer and I have been loving every single second of it. I was beyond blessed to be able to travel literally around the globe and I am counting down the minutes until I can do it again.
But curating the post for my London study abroad is going to take a little longer than anticipated, so I'm sharing with you one of my trips toward the end of my summer spent traveling to New York City (for the second time this summer, #sorrynotsorry).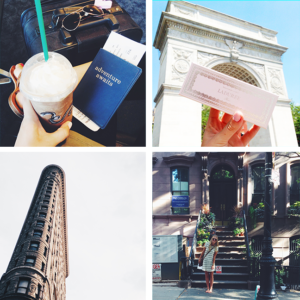 click read more to see my Top 10 Things to do in NYC for FREE!
Top 10 Things To Do In NYC For Free
1. Central Park//
This age old spot cannot be beat. There are thousands of places to explore, and its incredible how just taking a few steps into it, it seems as if you're in a totally different world.
2. The Highline//
Maybe I have a soft spot for greenery in the concrete jungle of NYC, but the Highline is the coolest thing I've ever seen. If you haven't heard of it, it's an old raised railroad system that was transformed into an elevated park, if you will. Sprinkled with food vendors and different exhibits down the almost 2 mile strip, it's something you do not want to miss.
3. The Flatiron Building//
If it's not greenery I'm in love with, its buildings. And the Flatiron Building is my favorite. Positioned at the intersection of two diagonal roads, this building is the focal point of many pictures and will surely be recognized. I will never get sick of seeing pictures of this building.
4. Staten Island Ferry//
This is definitely the item where you get the most bang for you
buck(especially since these are all free). Hop on the Staten Island Ferry at Whitehall Terminal down in the Financial District and get a fantastic view of the New York skyline, The Statue of Liberty, Ellis Island, Governor's Island, and New Jersey from the water, FOR FREE!
*TIP: If you want to see the best view of the skyline get on the right side of the boat when LEAVING Manhattan, and go on the left side of the boat when leaving Staten Island.
5. The Metropolitan Museum of Art*//
Okay so this one doesn't really count because it TECHNICALLY is free, but there is a suggested donation amount of $25 per person ($12 for students! yey!) to enter the Met. But if you don't want to shell out the cash, you can always pull a Blair Waldorf and just sit on the steps and look over your kingdom (Guilty of doing this) for free. Regardless of if you like art, the building itself is massive and a sight to be seen. And the exhibits inside are normally wonderful. Right now there is an awesome one called "China Through the Looking Glass."
6. 9/11 Memorial//
One of the most incredible places, I think, on the island is Ground Zero. There is a hush over this area that is almost eerie. Seeing everyone's name who was lost in this tragic event written on those fountains is chilling, but definitely a must see. Walking around the memorial is free, but the museum itself is $24 ($18 for college students!) during normal business hours, BUT WAIT. If you go on Tuesday evenings from 5pm to close, admission is free! But word to the wise, get in the area closer to 4pm to make sure you get a ticket as they get sold out fast.
7. 5th Avenue//
As you could probably assume, 5th Avenue was going to be on this list. Even though I cannot afford anything on this street, the storefronts of these stores are breathtaking. Kate Spade, Tory Burch, Chanel, the list goes on and each one is prettier than the next.
8. Washington Square Park//
Looking for a cool down on a hot summer's day? Head on over to Washington Square Park and stick your feet in the fountain next to the arch! There's plenty of grass area to spread out and tan(if you feel comfortable doing that in the city) or have a picnic!
9. Brooklyn Bridge//
If you're down in the Financial District, you must head over to the Brooklyn Bridge.
Suspended above the traffic below, you get a gorgeous view of the city that you don't want to miss. Watch out for the bikers though! They fly by!
10. Times Square//
It wouldn't be a NYC list if Times Square wasn't on it. But it's number 10 for a reason, while I think everyone should definitely see Times Square, once you've seen it once, you kind of want to avoid it. There is construction everywhere right now and hundreds of people pushing and shoving their way down the sidewalks that are way too small to accommodate that amount of people. Definitely go, get your pictures, and soak it all up, but there's better places to spend your time than here.
*Honorable Mention- One World Observatory($$)//
This is most definitely not free, but I had to talk about it. The observatory deck in this building is jaw dropping. It just opened and let me tell you, that the view is worth the wait that you are bound to have to stand in outside. For $32 for a general admission ticket (sorry no student discounts here), you get the coolest (and fastest) elevator ride up 102 floors to the top of the tallest building in the Western Hemisphere I've ever been on that reveals NYC throughout the years. You are then let out to the observation deck where you get 360 degree views of the city below you. You will want to spend your entire life up there. If you're willing to spend the money, I promise you won't regret it.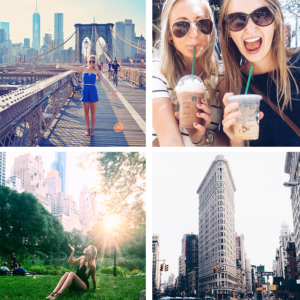 London posts will be coming soon and so will a documentary of my trip that you do NOT want to miss. Stay tuned!