Pull up a chair friends. I've got a lot on my mind today.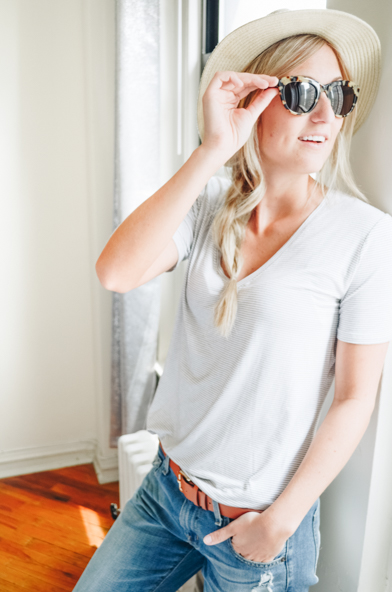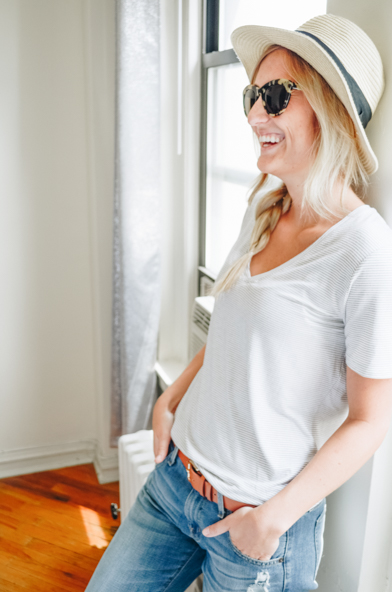 I'm a big fan of reinvention. I do it almost everyday. I find inspiration in various things that I encounter and use that to change who I am for the day. I think that's the fun of life. Why be the same person day after day? Last week I wanted to channel a moody/grungy look, today I wanted to channel my "effortless-chic" vibe, tomorrow, I want to be from Paris. Isn't that what life is all about? Finding someone that gives you inspiration and using that to create a better version of you.
I go through phases. As we all do. And I'm in the midst of my minimalistic phase. (Also, isn't everyone these days?) Maybe it stemmed from this documentary on Netflix. Maybe it came from being just about to launch our 3rd (!!!) edition of the Collegiate Daybook. Maybe its just being unfulfilled by all this "stuff" in my life. But wherever it started from, I'm in it and my eyes have been opened.
There's a quote that I came across a while ago that I just love.
The older you get, the more you realize enjoying life is sitting on the porch.
I want to sit on that porch now. I'm trying to sit on that porch now, but I'm stuck in an age where people are striving for the exact opposite of that porch. They're reaching for stuff and things and likes and envy and jealousy and it makes me feel like I'm reaching for the wrong thing.
In the past few years I've really become aware that I am an old soul. Which annoys me to even say that, but its probably the easiest way to describe me. I'm a big picture kind of gal, I think way too much (half the time about mortality but that's another story for another day), I try my hardest to be a great listener, I've become more aware in the everyday moments of my life, and I just always want to be a better version of myself. This is all in addition to me being a knitter, being a mega fan of Ella Fitzgerald and Frank Sinatra, reading every self-help book on the market, and going to bed at 9:30pm every night of the week of course.
I'm not saying these things to be hipster or trendy or want to seem cool to you, I say these things, because this is who I am. But with that comes the freedom and option to change as you see fit! Think back to your middle school self. Your favorite songs, your favorite shirt, the thing you would look forward to most on Friday nights. Are any of those things still the same today? My guess is that they're probably not. And that is a-okay. Having a long period of time pass doesn't have to be the only reason you're given permission to change. You can do it every single day.
The reason I'm telling you all this is I think it will help you understand me, my company, and my personality a little more.
I try my best not to force anything on here. I try to capture everyday life and authentically share it. I wear the outfits in the posts, I use the tips I share, I've travelled to the cities I mention. I strive to have this space be a place of authenticity and knowledge. And yes, that knowledge includes where to buy cute clothes and how to style them sometimes!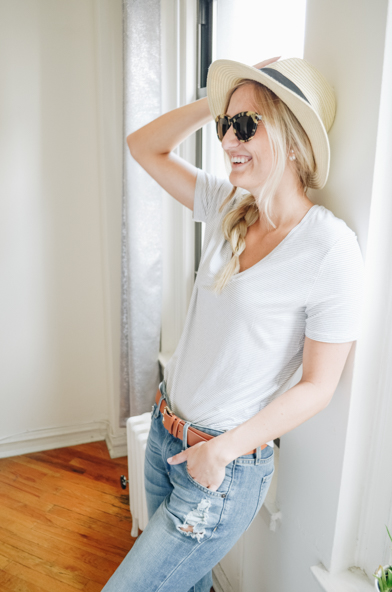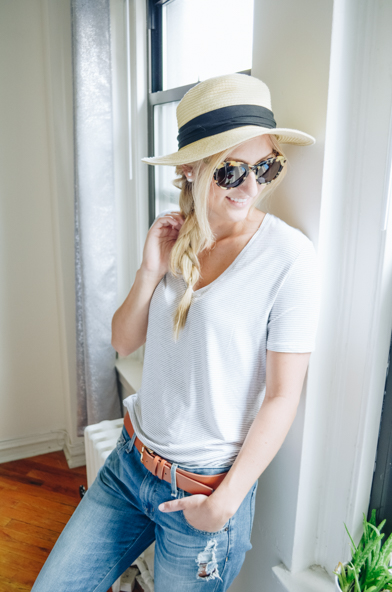 striped tee | sunnies (similar)
I don't want to create "stuff." I want every piece of content and every product we produce to have a purpose. I want everything in my life to have a purpose! Good news is, I already know that I have a purpose (shoutout to you God!), but I just want to make sure everything I'm in charge of in my life also has one. So that's why I don't post content on a regular basis and why we only have a few hand-selected products in our shop. We don't want to be another shop that just creates things. We want to create purposeful tools for your life.
We want to enable you to enjoy the little everyday things in your life. Go for a walk in the woods. Watch the sunset. Spend an afternoon with the girls. Be present. Be aware. Be grateful.
So, why don't you come sit on the porch with me?

SaveSave
SaveSave
SaveSaveSaveSave
SaveSaveSaveSave
SaveSave
SaveSaveSaveSave
SaveSaveSaveSave
SaveSave
SaveSave