If you stuck around long enough on my previous post you'll know that I'm in the midst of trying to redecorate, or honestly decorate in the first place, my home. Just in time to move out! Woo. (Okay I don't know if I'll actually move come Spring, but regardless, I'm updating it). With that being said, I put together a little moodboard of some pieces of inspiration I'm finding around the web.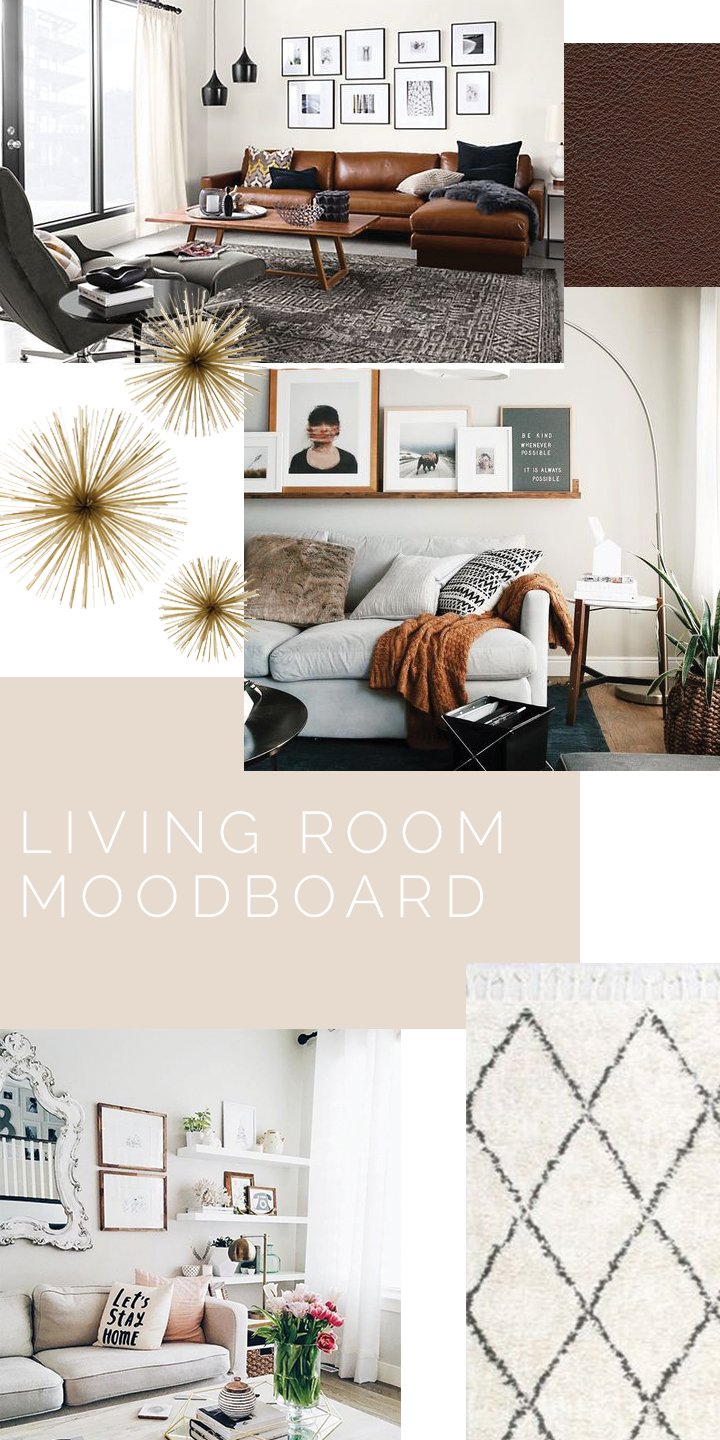 Since I have about honestly 20 square feet that claims itself as my "living room" my options are limited. I can't bring in a huge coffee table (honestly not sure if I can have one at all…) or put a large chair in the corner. I'm really only able to get a new rug and update the decor on the wall above the couch. The big, brown leather couch is staying.
Succulent Print |  Palm Leaves Print |  Woman in Black  |  Trio of 3 Black & White Prints
Here are some of my thoughts when it comes to wall decor. Go with a pop of green since I'm very into plants lately or stick with what I know and do an abstract black and white print? Decisions, decisions. The other question that comes into play is do I print a picture from my gallery at a print shop and frame it myself or buy a framed piece of artwork already? My budget says DIY it, but I don't want it to look cheap. Ya'feel?!
There's also this great set of prints from Ikea for $10….
You've got to admit, that's a pretty great dupe for the above prints. The problem is:
They're square
Ikea is still an hour away from me. And I have no car to get there.
One isn't a white background and I'm not sure how that's going to look.
So you can see that I still have quite the dilemma. And don't even get me started on what color the frame should be.
In addition to what prints I want to do above the couch, I have to decide if I want a mantle to place the pictures on or if I want to hang them from the wall. I am really feeling the one mantle with several different size prints on it. I can also throw my letter board that I have up there like in the inspiration picture. My one hesitation to doing that is that my wall has a lot of open space and I don't want to push everything into one space. If I hang artwork throughout the wall I feel that it would fill the space better. I'm getting the sense that gallery walls are on their way out when it comes to interior trends and I want to stay ahead of the curve, so it wouldn't be a full on gallery wall, probably two or three larger pieces of art. I want the space to be simple, semi-minimalistic, and calming. And I only have 30 sq. feet to accomplish that!
Stay tuned for what I decide.