I've been in denial that my hometown is a tourist destination my entire life. Dreading the influx of summer visitors every year is a bonding experience between the locals that is a hard habit to break. But as I travel more and more places I'm starting to understand the draw that many people find in St Joseph, Michigan.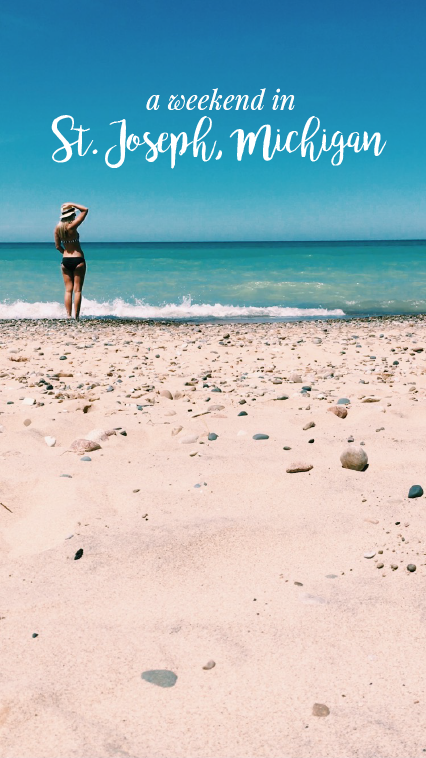 Nestled in the corner of Southwest Michigan, right along the beaches of Lake Michigan, you'll find a quaint, little town boasting the best (I think) sunsets in the world, friendliest locals, and all the beauty of the four seasons (sometimes all in one day!) that you won't want to miss. Take a peak at some of my favorite things to do while you're in town below:
TRAVEL
PLANE | The nearest airport is South Bend Regional Airport that flies to select cities. Only 45 minutes away, this airport is the most convenient. The Chicago airports, O'Hare and Midway are only around 1.5 hours away as well.
TRAIN | Amtrak runs directly into St. Joseph, at a great place to eat as well, Silver Beach Pizza(more on them later).
AUTOMOBILE | Located only 4 miles from I-94 St. Joseph is incredibly easy to get to. Driving down Red Arrow Hwy is a great way to ride along the lakeshore while reaching your destination.
EAT
BAGUETTE DE FRANCE | Best sandwiches ever. You have to get their signature garlic sauce. It's beyond wonderful. It's not really a sit down restaurant, so I would recommend getting it to-go and watching the sunset from the beach or one of the Red Arrow Highway Overlooks!
CAFFE TOSI | This is a super quaint cafe located right downtown St Joe. Bursting with sandwiches, soups, and wonderful espresso & sweets, this is the perfect place to grab a quick bite to eat, without sacrificing quality.
SILVER BEACH PIZZA | You may have even heard of SBP, as the locals call it, before hearing about St Joseph! This is definitely a must-eat at stop. From their incredible pizzas to the massive schooners they serve their drinks in, to my personal favorite, Irish Nachos (french fries with cheese, bacon, sour cream, and pure deliciousness on top). This place is always busy during peak season (Memorial Day- Labor Day) so try to get their early, as they don't take reservations. But if your whole party is over 21, sit on their new 2nd story and you can reserve your table online! Everything is good here.
SCHU'S BAR AND GRILL | This is my favorite place to go if I'm treating myself, but don't want to go overboard. With an outdoor patio that has a great view, to great food and located directly downtown, it's the perfect spot to finish the night. The Schu's Turkey Club Panini is my favorite, for sure.
CLEMENTINE'S | With an absolute perfect spot on the St Joseph River, you're definitely going to want to make the drive a few blocks down the road to eat at Clementine's Too. With the original Clementine's located in South Haven, Michigan, this does not disappoint. With everything from Italian, American, and even Mexican you're bound to find something you like. Definitely get a stack of onion rings to start off the meal and be sure to take a peak around at all the nautical themed items!
TIM'S TOO | If you love stir fry, Tim's Too is definitely for you. You get your choice of meat, vegetables, and sauces, all made right in front of you! Their signature Tim's Too sauce is my favorite! And you have to get the pita bread to top it off! You don't want to miss that!
THORNTON'S HOME TOWN CAFE | Missing a little taste of home while you're traveling? Stop in at Thornton's Home Town Cafe for a bite to eat that will make you think you're still at home. Great prices and a great selection of food is what you'll find here, but they close early so plan accordingly!
THE LAKEHOUSE BAR + GRILL | With arguably one of the best patio views in the city, you're going to want to spend dinner out on the deck. The Lakehouse is a popular spot for weddings and quiet nights out alike. With a great bang bang shrimp as well as basically everything else on their menu, you'll have the picture perfect evening.
THE BUCK BURGERS + BREW | With a huge beer selection and a great rooftop, this is the perfect place to kick back after a beach day with some good food. This does get pretty busy in the summer so plan accordingly, they do have a texting service so they'll text you when your spot is ready!
RYEBELLE'S | For a more upscale dining experience, check out Ryebelle's and their new rooftop! They've got live music, a different menu each weekend, and great stone-fired pizza. They take reservations so it wouldn't hurt to plan ahead to guarantee an on time dinner.
221 MAIN | Their french fries, one word: AMAZING. With a rooftop seating area under construction right now (Sept 2016) this place is just going to get better. With a full bar that turns into the place to be on Friday and Saturday nights, you'll want to come and eat and stay to drink.
PLANK'S TAVERN ON THE WATER | Located inside the beautiful Inn at Harbor Shores, this American food diner boasts a great menu and even better views. With an outdoor patio right on the St Joseph River and live music throughout the summer, this is a great date night spot.
ON THE RIVER, TAVERN | If you're looking for a real local experience, you're going to want to go here. Honestly I didn't even know it existed until last year. With a great bar and great pub food, you'll be here all night. Ride up on your boat because it's got docks out back and a great outdoor patio to drip dry on from the beach. This is a super casual place, but full of great people and great times.
AZUL TEQUILA | If you're in the mood for Mexican, we've got you covered. Located just across the street from the iconic Silver Beach Hotel, you will not go home hungry. Their fried ice cream is massive and always hits the spot.
THE BISTRO AT THE BOULEVARD | If you're looking for a swanky place to woo your date at, this is it. This is definitely high class and the food, for the most part doesn't disappoint. I personally do think it's a bit overrated, but I'm honestly happiest with a club sandwich and french fries, so who am I to judge?
DESSERT + COFFEE
CLIFFORD'S COFFEE CANAL | This technically is located just over the bridge in Benton Harbor, but it's so worth the little drive. This is the most quaint coffee shop you'll find. With blooming plants everywhere, bright colored furniture and an outdoor patio overlooking the river where you can feed the ducks, you will want to spend every morning here. They even serve breakfast and lunch! But they're only open until 2 or 3 depending on the day.
SOUTH BEND CHOCOLATE CAFE | This is definitely a big spot for any night of the week. Located in the heart of downtown, the Chocolate Cafe is always filled with a mix of people. With special nights of live music almost every weekend in the summer, you are always welcome to sit and listen while sipping on some coffee, ice cream, or other sweet treats from this local favorite.
KILWIN'S | Boasting some of the longest lines in St Joseph history, Kilwin's never disappoints. The ice cream is obviously to die for and is always the perfect way to watch the sunset. Grab a cone and head to the bluff to watch the sun go down in all its glory.
YO BUBBS FROZEN YOGURT | If ice cream isn't your thing, maybe frozen yogurt is. Yo Bubbs is the perfect place to quench your thirst for the sweet treat, with loads of toppings and sauces it can be a healthy or not so healthy alternative to Kilwin's down the street.
DAIRY KORNER | This classic St Joe ice cream stop is always a hit. Located on the corner of Red Arrow Hwy and Lakeview Ave, you'll pass it on your way downtown or to the beach. Stop by for a quick sweet treat or some food!
MIMI'S CUPCAKES | If you're having a craving for a cupcake, Mimi's is the place to go! With a food truck located right in the parking lot next to the stairs on the bluff, you won't have to go searching for long! With a storefront just down the road too, you'll never be too far from a cupcake.
STAY
Because I live in this town, it's a bit hard to say where to stay at since I've never stayed anywhere. One thing I will tell you is to probably not stay at The Silver Beach Hotel. It's a little sketchy looking from the outside and fights seem to break out in the bars pretty often. There's so many more options to choose from than that one. Here are the ones I have been inside and can attest that they are nice establishments.
THE INN AT HARBOR SHORES | Brand new and you can even live here!
THE BOULEVARD INN | Right downtown and super fabulous!
BED + BREAKFASTS | I haven't stayed in any, but to get a real St Joseph vibe, this would be a great alternative to hotels and I've heard good things!
SEE + DO
SILVER BEACH | This is the main attraction. This, quite large, beach is what the people come for. With a north + south pier that you can walk on (please do not jump, people die every year from that) and soak up the sun in, you'll want to do this every day.
SILVER BEACH CAROUSAL + WATER FOUNTAIN | If you've got kids, this is the place to go. With a carousal filled with animals featuring beautiful designs from around the city to a gigantic outdoor water fountain for the kids (and adults! theres no age limit!) to play in, this is always a huge hit on the hot days.
HARBOR SHORES GOLF CLUB | If you'd rather spend the beautiful days at the golf course instead of the beach, St Joe is great for you too! The host of the Senior PGA Golf Championship for several years, this Jack Nicklaus course will give you a run for your money.
SHOP LOCAL | The downtown St Joseph strip is a great place to get clothes, knick knacks, souvenirs, and home decor. Take a stroll down State St and pop in the great shops all along the road.
Whew! I guess I didn't realize how much there is to see, eat, and do in this little town until I listed it all out! If you have any questions at all, want more recommendations, feel free to drop a note in my inbox and I'll get back to you as soon as I can!
Want to see where else I've traveled to? Click here.